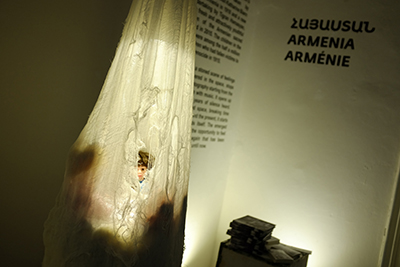 In 2015 Eiva Arts Foundation represented Armenia at 13th The Prague Quadrennial of Performance Design and Space (PQ'15) with "Red Hail…because it never ends" video art installation on the platform of contemporary scenography. The author-artists of "Red Hail… because it never ends" are Nelli Barseghyan and Lilit Stepanyan, scenographers and co-curators, Tigran Hamasyan, the composer and Vahan Stepanyan the director.
The Prague Quadrennial of Performance Design and Space was established to bring the best of Performance Design, Scenography and Theatre Architecture to the front line of cultural activities to be experienced by the professionals as well as the public. Since 1967 Prague Quadrennial strives to present performance design as an art form concerned with creation of active performance environments: The core of this international event consists of exhibitions from more than 60 countries from all over the world with overall international attendance from over 75 countries. According to the official date more than 180000 visitors have been registered attending the exhibition from more than 90 countries of the world.
The Armenian pavilion was located at the Kafka's House, which was perfectly consistent to the installation both with its space and the mood it spread. The video art installation was continuously screened on the wall. The presented installation also involved symbolic items such as droplets of hails hung from the ceiling reminding the womb of a woman, crusted stare of dolls, metal cans filled with dry soil, wooden horse, manuscript writings, children's clothes hanging on a hook on the wall and the photo of children the installation was based on. "Red Hail…" installation was emotional and poignant. It would absorb the visitor into its restrained and expressive content.
Within the frames of PQ, Armenian day was organized with the exhibition entitled "100 year of silence" dedicated to life stories of the Armenian Genocide survivors. The exhibition was made possible in close cooperation with PAN Photo Agency.