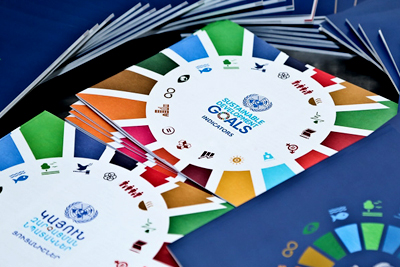 Eiva Arts Foundation has created the first brochure on the Sustainable Development Goals and Indicators in Armenian and English in close cooperation with United Nation (UN) Armenia.The brochure is to foster the awareness and education on the SDGs in Armenia. On 1 January 2016, the 17 Sustainable Development Goals (SDGs) of the 2030 Agenda for Sustainable Development — unanimously adopted by world leaders in September 2015 at an historic UN Summit — officially came into force. Building on the success of the Millennium Development Goals, over the next fifteen years, with these new Goals that universally apply to all, countries will mobilize efforts to end all forms of poverty, fight inequalities and tackle climate change, while ensuring that no one is left behind. The 17 goals with 169 targets will be monitored using a set of 230 global indicators.
The new Goals are unique in that they call for action by all countries, poor, rich and middle-income to promote prosperity while protecting the planet. They recognize that ending poverty must go hand-in-hand with strategies that build economic growth and addresses a range of social needs including education, health, social protection, and job opportunities, while tackling climate change and environmental protection.
17 goals are presented in the SDGs brochure (1. No poverty, 2. Zero hunger, 3. Good healthy and well-being, 4. Quality education, 5. Gender equality, 6. Clean water and sanitation, 7. Affordable and clear energy, 8. Decent work and economic growth, 9. Industry, innovation and infrastructure, 10. Reduced inequalities, 11. Sustainable cities and communities, 12. Responsible consumption and production, 13. Climate action, 14. Life below water, 15. Life on land, 16. Peace, justice and strong institutions, 17. Partnerships for the goals) juxtaposed with photo stories depicting the current state of Armenia. Indicators of the goal has been published which is enclosed to the SDG brochure, which will be used by the specialists in the researches of the current issues and improvement making process. The SDG brochure was launched in October 24 within the frames of the 71 anniversary of the United Nations Days in 2016.