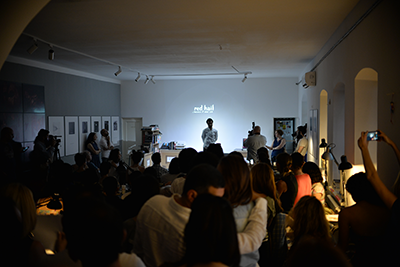 "Red Hail… because it never ends" video art installation organized its Yerevan premier at one of the most creative, artistic and authentic spots which is the Mirzoyan Library."Red Hail… because it never ends" video art installation was highly acclaimed at PQ'15 where it was first presented.
Before the video art screening, the director of Eiva Arts Foundation made a welcoming speech presenting the success the video art installation the frames of Prague Quadrennial of Performance Design and Space from June 18-28 within. Co-curators Lilit Stepanian and Nelli Barseghyan talked about the artistic creative concept of the video art installation, which was an attempt to present the Armenian Genocide that occurred 100 years ago through the medium of interaction of sound and image. The video art director Vahan Stepanyan presented the process of shootings, which took place at  Tsiranavor church of 5-6 century. The church, that got its present image as a result of interaction of time and nature, was the best environment for the video art. The naturally demolished church had a incredible energy bursting out of its ruins, which was perfect for the video art. The composer of the video art Tigran Hamasyan talked about the music mentioning that was involved in the "Luysi Luso" album.
"Red Hail… because it never ends" video art installation started: "… The reproduction of children's unfinished game that is documented in the photography turning timed photography into timeless… It visualizes what we would wish to be real – to become the witness of children's uninterrupted game. Sometime, a person, reluctant to face the cruel reality subconsciously creates another, more vibrant reality or makes up a brighter future. This is the continuation of children's unfinished game who fell victims of the Armenian Genocide.
Nowadays, children play the game, which started 100 years ago, exactly the same way as the children in the photography would do. Basically, nothing has changed in children's game. This means that children today are the carriers of the genetic memory of those perished children, the ones to continue their unfinished game, the ones to resurrect that game…"