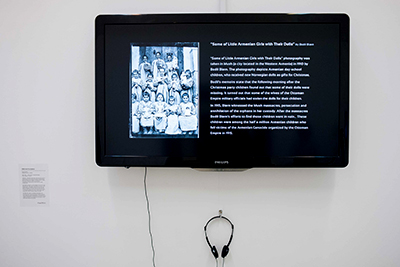 "Red Hail… because it never ends" video art installation was presented at the Artraker Biennial Award 2017 and selected among the 8 runner-ups from more than 300 submissions from all over the world.
"Red Hail… because it never ends" was invited to be exhibited in Malta within the frames of "Art of Peace" exhibition. After the fortnight exhibition in Malta, the artworks will be exhibited in London as well within the frames of the biennial.
Artraker BIennial is a singular festival in its format that is dedicated to exhibiting how the visual art is able to manifest turmoils, wars, genocides, atrocities, poverty preaching peace to the world.
This year the Artraker Biennial took place in Creative Center after St. James Cavalier in Valletta, Malta from March 3-26. The exhibition was opened by Her Excellency, Marie-Louise Coleiro Preca, the President of Malta as well as the biennial organizers from  Artraker Community Interest Company and the exhibition curator Fabrizio Mifsud Soler.
Her Excellency, Marie-Louise Coleiro Preca, the President of Malta in her keynote speech said:
"The 'Art of Peace' exhibition opens a window into the powerful possibility of change in our world, adding that it reminds us that there is a credible alternative to the rhetoric of suspicion and division which, unfortunately, is becoming louder across many of our nations. It also reminds us that we can free ourselves from narratives of destruction and isolation, and replace them with narratives of inclusion and participation."