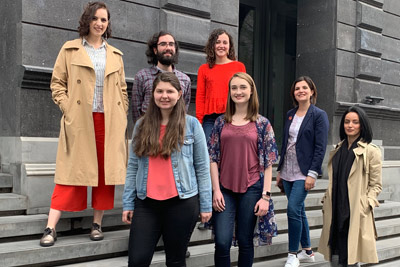 Following the success of their popular art card game ARVEST, the Eiva Arts Foundation has initiated the development of "ARVEST Digital", with an aim to demonstrate that everyone can appreciate art.

To support the development and promotion of a new mobile application, that will be soon available in both Android and IOS app stores, this spring Eiva hosted four students from Worcester Polytechnic Institute (WPI) in Massachusetts, a four-year technical university. The students traveled to Armenia for two months as part of WPI's Global Projects Program. The Global Projects Program offers projects at over 50 sites across 6 different continents to encourage students to experience new cultures while simultaneously completing their required project work.
Diana is from Redmond, Washington and is currently a third-year student. She is pursuing Biomedical Engineering with a concentration in Tissue Engineering and Biomaterials. She is involved in the chorus on campus and is a member of a sorority. Isabel is from Boston, Massachusetts and is currently a third-year student pursuing a degree in Chemical Engineering. She loves art and has taken many art classes in both high school and college, and has therefore thoroughly enjoyed working with Eiva. Raymond is from Rhode Island, a second-year student, and is pursuing degrees in Computer Science and Interactive Media & Game Design. He is involved with the chorus and plays guitar and piano in his free time. Elizabeth is a third-year student from New Jersey who is pursuing a Computer and Electrical Engineering degree. Several of the clubs she is in meeting regularly with children enrolled in afterschool programs.
The students were involved with Eiva's new social initiative as part of their Interdisciplinary Qualifying Project, in which the students focus on a social science project to encourage their development into more well-rounded technical students. They worked closely with the Eiva team to assist them in developing marketing materials for the release of ARVEST Digital.
This project provided the students with the opportunity to develop skills outside of their technical and engineering majors. Additionally, the opportunity to work in Armenia provided an enriching cultural experience for the group as they were able to explore the sights, sounds, flavors, arts, and customs that make Armenia beautiful and unique.