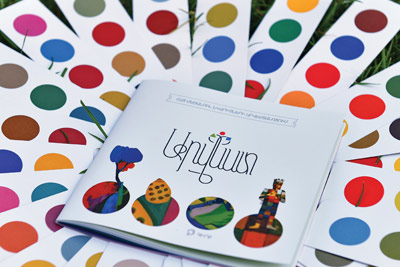 ARVEST to be presented at the St. Illuminator's Armenian Apostolic Cathedral with the support of the Church Board, with the sponsorship of Orion Worldwide Innovations LLC and Eiva Arts Foundation.

Eiva Arts Foundation aims to showcase ARVEST Art Card game as an interactive art education tool for Armenian community and schoolchildren in diaspora as well as promotion, recognition and dissemination of the Armenian art globally. In game-format children discover the unique world of Armenian artists, recognize the Armenian highlands, history, nature, the Armenian men and women through the eyes of famous painters.
The event will be held at the St. Illuminator's Armenian Apostolic Cathedral ( 221 E 27th St, New York, NY 10016) on May 19, 2019, at 1:30 -3 pm.
In 2017, Eiva Arts Foundation initiated the creation of "ARVEST", first ever board game in Armenian dedicated to 12 outstanding Armenian artists, from Hakob Hovnatanyan to Minas Avetisyan, with an aim to trigger children's curiosity towards the Armenian art in an easy-to-grasp, visual and interactive manner. The game features their most famous artworks that are exhibited in Yerevan art galleries, an unusual factbook that discovers the most interesting and less known biographical facts about each artist and explores the peculiarities of their style, fostering the skill of deciphering the artwork correctly.
As the board game is interactive, easy-to-carry and serves educational purposes, it provides both the parents and teachers with the opportunity to use it in any setting. The game includes a detailed guidebook providing rules and recommendations on how to organize the game process in the most interesting way both for individuals and in groups.
Over the past couple of years ARVEST Art Card game has been hugely successful in Armenia and beyond. The game was approved by the Ministry of Education of Armenia as a didactic material for school curriculum. ARVEST is currently available at over 150 schools in Armenia and Armenian global diaspora.
The game is now available in English, Eastern and Western Armenian. We are delighted to mention that soon ARVEST DIGITAL mobile app will be launched soon which will contribute to the promotion of art education on a global scale.
ARVEST Art Card Games are available for purchase in New York at the May 19th event and soon to come available at several New York City bookstores.
You can also preorder Arvest at www.eiva.am.