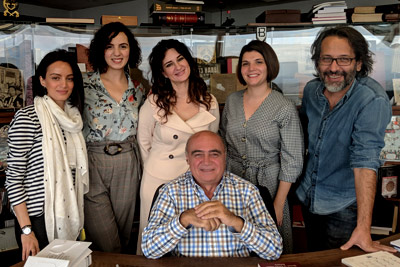 On November 2018, the Eiva Arts Foundation visited Istanbul as part of the Hrant Dink Foundation "Beyond Border" Program to explore possibilities of collaboration with Turkish cultural establishments.
The team also got introduced to the contemporary art centers of the city with an aim to foster art education among Armenian and Turkish children and youth. During the trip, the team also had the opportunity to visit some of the Armenian schools in Istanbul and meet the Armenian community representatives.
Three years ago, Eiva Arts Foundation organized Aivazovsky Rhapsody exhibition-concert comprised of more than 200 artworks of the world-renowned mariner Ivan Aivazovsky, through a digital exhibition with 3D effects and accompanied by Turkish famous composer Anjelika Akbar's performance. "Ayvazovski Rhapsody" was an international art project created by the Turkish Boyut Publishing House and showcased in Ankara, Theodosia, New York and in Yerevan, the fatherland of the world-renowned artist.
"During our visit to Istanbul, the representatives of the Boyut Publishing House welcomed our team with great enthusiasm, emphasizing the importance of cultural cooperation and the necessity and prospects of implementing future art projects together," said Lia Mkhitaryan, Eiva's Co-Founder and CEO.
The trip to Istanbul was marked by visits to the oldest Armenian schools – Karagozyan, Dadian, Mkhitaryan, Getronagan, during which Eiva's team got introduced to the rich history, traditions, unique educational environment of the schools, with a mission to ensure quality education and preservation of the Armenian identity in Turkey.
"We presented our recent project ARVEST – art education through gamification to the schools. The Western Armenian version of ARVEST art game that we have recently launched, is a useful Armenian language material for Diaspora Armenians to encourage Armenian art education in a game format," said Lilit Stepanyan, Eiva's Co-founder and Artistic Director.
The next stop was the Armenian "Aras" publishing house, "Marmara" daily and "Agos" weekly, which have been an important source for dissemination of the Armenian-language materials for many years.
The final destination was a visit to one of the Galeri77 in Istanbul, which is one of the important platforms for showcasing contemporary art in Istanbul. The works of Turkish, Armenian and foreign contemporary artists are exhibited in the Galeri77.
"Our visit to Istanbul was a wonderful opportunity to collaborate with the Armenian schools in Istanbul and work together to educate Armenian young children and youth about Armenia's rich cultural heritage. This trip served as a bridge for a possible dialog between Armenian-Turkish people by means of art," said Gayane Ayvazyan, Eiva's Head of Initiatives.