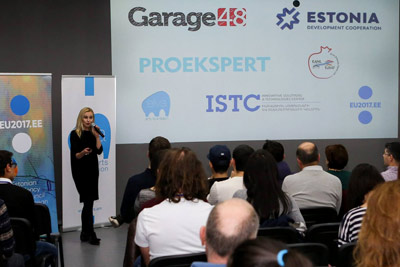 Garage48 Arts&Culture 2017 kicked off for the first time in Yerevan on December 2017 by gathering around 55 passionate participants who pitched 14 ideas from which 6 found themselves a team.
Armenian cultural scene is known worldwide for its prominent carpet-weavers, its oldest, richest and most varied dance traditions, its beautiful music, as well as, local cuisine and wine. Meanwhile, the Armenian tech industry is growing at an annual rate of 20 percent and the country has been called the new Silicon Valley of the former Soviet Union.
Garage48 Arts&Culture 2017 development weekend was co-organised by the Eiva Arts Foundation under the auspices of the Estonian Ministry of Foreign Affairs and Estonian Development Cooperation. This hackathon aimed to bring together the brightest minds of the Armenian arts and culture community combined with the IT and startup community specialists to work on the development of innovative and sustainable products fostering the improvement, growth, and preservation of the Armenian cultural heritage.
The main topics of the hackathon were:
Traditional Culture and Culture Heritage
Cultural Tourism
Cultural Education
Art and Technology
Showcasing Culture Heritage in Contemporary Environment
All product and spatial designers, skilled graphic, UI and UX designers, art historians, cultural theorists, and artists, inspiring project managers, dedicated developers & engineers and other specialists with a passion towards arts, culture, heritage, and hacking gathered together at ISTC for a weekend to deliver innovative working prototypes in just 48 hours!
More than 15 teams participated at the hackathon, elaborated and polished their ideas on creating physical products, web & mobile apps or hardware hacks. The winning team, PromInnArt, with a promise to bring Armenian contemporary art to your doorsteps, were rewarded with a financial price, in the amount of 2000USD to help the team launch their idea.