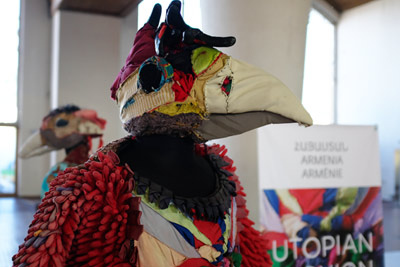 In June 6-16, 2019, Eiva Arts Foundation represented Armenia National Exposition  at the Prague Quadrennial with the Armenian renowned contemporary artist Arshak Sarkissian's "Utopian Fashion" contemporary installation.

"Utopian Fashion" is an anthropological research concept about human-costume relations, where costume creates a new renaissance-community. It is a theatrical spectacle aimed at looking at the far future of humanity through the perspective of costume. "Utopian Fashion" synthesized sensory perceptions and gave opportunity to the audience to experiment by mentally wearing them and creating their own UTOPIA.
The Armenian delegation comprising of the artist Arshak Sarkissian, the expert-scenographer Lilit Stepanian and the curator Lia Mkhitaryan attended Prague Quadrennial. Within 11 days of the festival Armenia's exposition space was filled with thousands of visitors. The catalogs representing the installation were a very valuable souvenirs for the visitors to take with them as an essential piece of the exhibition.
More than 800 artists and curators from 75 countries arrived to the 14th Prague Quadrennial. The area of Prague Exhibition Grounds, where the festival took place, was visited by 70 000 visitors in Prague and many more members of PQ worldwide community of followers. Alongside with the exhibitions and performances, many conferences, seminars and talks were organized sharing international experiences on contemporary trends of performance space design with artists and curators of from all around the world.