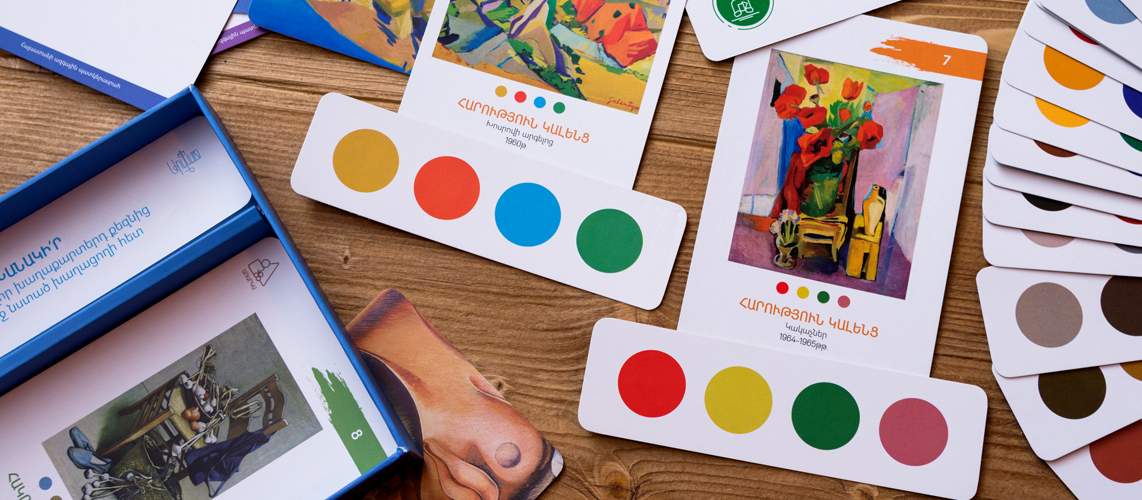 Arvest board game dedicated to the Armenian art includes 12 outstanding Armenian artists of 19-20 century such as Hakob Hovnatanyan, Hovhannes Ayvazovski, Martiros Saryan, Yervand Kochar, Minas Avetisyan, etc and their most famous artworks, interesting factual information, including biographies of each artist and the peculiarities of their style. The board game itself is interactive and educational, thus, it provides both parents and teachers with the opportunity to use it for educational purposes. The game comes with a guidebook providing recommendations on how to organize the game play in the most interesting and effective way, both for individual use and within groups. The game includes 5 different game forms, fostering the skill of deciphering the artwork correctly.
Art education plays an important role in the formation of aesthetic mindset and development of aesthetic taste in an individual. Therefore, it is of high importance for children to practise art both as part of the school curriculum and extracurricular activities. Art fosters the ability to see and value the beauty, search for creative solutions of various issues. Most importantly, it is a driving force for innovation. The studies show that the involvement of children in cultural and creative activities can contribute to the improvement of their academic performances in other subjects.
Armenian art has its unique role in the global repository of art heritage. Moreover, it's the indivisible part of the identity and world outlook of the Armenian nation. Therefore, the transition of the Armenian art heritage to the new generation and its promotion is not only important from the perspective of the development of an individual but also from the perspective of the preservation of the Armenian identity.
Arvest board game is available in Eastern Armenian, Western Armenian and English. It's worth mentioning that the game was approved by the RA Ministry of Education as a didactic material to utilize within the school curriculum.
The game was made possible with the financial support of RA Ministry of Culture, Armenia Youth Foundation, Pyunik Foundation, Pan-Armenian Network, European Union, UNDP, Kolba Lab and in close cooperation with Armenian National Gallery, Saryan Museum, Kochar Museum, Yerevan Modern Art Museum, Parajanov Museum, Kalents Museum, Cafesjian Center for Arts, Minasyan and Hakobyan families.